How about a movie and a glass of wine ?
We are pleased to announce that REGAL Cinemas and Enomatic Wine Serving Systems have partnered to offer moviegoers the quality wine program they deserve, nationwide.
Select REGAL theaters are being equipped with our Enoline ELITE 8 Dual Temperature, available from the concessions stand and offering 5oz pours of 8 different wines. Enomatic proved a natural fir for this ambitious project thanks to the ability to restrict access to underage staff members, ability to preserve both reds and whites in the smallest possible footprint (you know how busy a concession stand can be 😉
Along with the preservation capabilities of the dispensers and the pouring control, critical is such high volume environment, REGAL was looking for a piece of equipment that would center stage the wines and help them grow their sales the best possible way. Some locations are even receiving the newly released FLUTE dispenser for sparkling wines.
Check out your local favorite theater to find out if they are already offering wine-by-the-glass with Enomatic.
Cheers !
---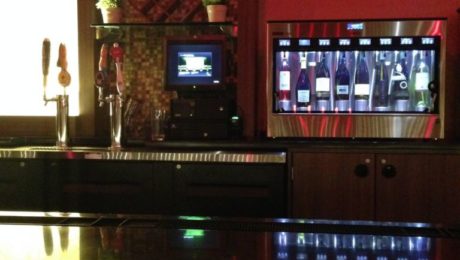 Regal Entertainement Group completes luxury expansion in Atlanta with ENOMATIC Wine Dispensing Systems
We are very proud to announce his recent collaboration with Regal Entertainement Group in their Atlantic Station Stadium 16 location.
As part of the new full-service bar addition that Regal built, piloting a national roll-out, they chose to implement a selection of 16 wines available by the glass selection through the Enomatic systems : 2 climate controlled Enoline Elite 8-bottle. In addition, their lounge bar includes a 4-bottle Champagne preservation system, Flute. It the first system in the world to allow champagne by-the-glass, preserving the perlage, flavor and taste for up to 10 days after opening a bottle.
Regal Entertainment Group found in Enomatic® Wine Serving Systems the right innovative partner that allows moviegoers to fully enjoy Regal's new wine offer, all in a sleek and upscale environment. Using the proprietary Enosoft Software application, the staff and brand managers also benefit from the advanced computerized management of the dispensers to monitor useful parameters about the wine consumption and service.
This project with Regal Entertainment Group emphasizes Enomatic's growing presence and relevance in the entertainment industry and comforts its position as the leading technology in the premium wine dispensing and preservation  solutions. 
About REGAL MOVIES 
Regal Entertainment Group operates the largest and most geographically diverse theatre circuit in the United States, consisting of 7,342 screens in 576 theatres in 42 states along with Guam, Saipan, American Samoa and the District of Columbia as of October 24, 2013, with over 216 million attendees for the fiscal year ended December 27, 2012 ("fiscal 2012"). Our geographically diverse circuit includes theatres in 46 of the top 50 U.S. designated market areas. We operate multi-screen theatres and, as of December 27, 2012, had an average of 12.7 screens per location, which is well above the North American motion picture exhibition industry average. We develop, acquire and operate multi-screen theatres primarily in mid-sized metropolitan markets and suburban growth areas of larger metropolitan markets throughout the United States.